Shadow Side of Men Course & Heauxlistic Therapy monthly subscription course
For several years now I have been sharing my knowledge gained from the industry to help women understand the true nature of men. I did this by hosting several events & classes that will prove to you that there is a shadow side that men do not reveal to the women in their lives. I recorded some of my sessions with men, mostly married men, & allowed the women in my course to listen to the calls and watch videos. These secret recordings show that men are not who they pretend to be. There is a shadow side that they only share with the Jezebel. The oldest profession is very lucrative and recession proof because men cannot keep their shadow side hidden forever. They have to expose themselves eventually. In 2020 I decided to create an intense course to go even deeper into this subject in the hopes that I can save lives & spare women the pain & burden of being played by dangerous males. Most men are dangerous. You have to understand that to live in a patriarchal society. I give you the raw truth that men hide from their wives & girlfriends.
In March of 2023 I decided to end the SSOM course until further notice. I launched my monthly subscription course on June 1st & this course is more focused on spirituality and fierce unapologetic self-care. I do include quite a bit of my SSOM content, but there is so much more to the monthly subscription course. We are discovering ourselves. We are learning about our ancestors and honoring them. We are interpreting dreams and seeking guidance from tarot card readers. The monthly subscription gives you access to beauty and health tips, solo travel guides, lessons on hypergamy and the importance of selfishness and so so much more. The monthly fee is $49.99. This course is for adult women only. We do discuss and view adult content. If you are a prude you won't enjoy this course. We deal with reality and explore without unnecessary limits. Email me to join us. You won't regret taking this leap. This is a very powerful life-changing course. We are all about empowerment and we will welcome you into the space. Click this link read reviews.
All of the SSOM courses were recorded live. Some of the recordings are available for purchase. I have one of the. recordings linked below. The cost is $100. I am no longer offering the live course. You are welcome to purchase some of the past events. Not all of the recordings are available to the public. The information is priceless and a lot of it is triggering. Adults only! The linked recording is from January 16th, 2023.
To purchase the recording click the Purchase button or send your zelle payment to [email protected]. Cashapp payments accepted as well $Themermaidheaux PLEASE INCLUDE EMAIL ADDRESS IN MEMO FOR ZELLE OR CASHAPP. If you live outside of the US and want to use paypal please email me. Heauxlistictherapy.com
HOW TO BECOME A RICH HEAUX: LESSONS 1-10
Learning about the many areas of adult entertainment can be overwhelming. There is so much to learn and so many options for women who want to be their own boss. Imagine making money in your sleep. Imagine working from your phone or laptop. Imagine no schedule, no boss, just complete freedom. Don't get it twisted though sis. Sex work IS WORK! Being your own boss means managing your time & finances responsibly. It's important to hustle and market yourself. You have to build a loyal fanbase to make it in this industry. I break all of this down in 10 individual lessons. Each lesson is packed with priceless information and tips. I give you multiple different companies and many ways to maximize your earnings. I share my experiences with different fetishes and help you to avoid the mistakes that I made. I jumped into this industry with no mentor and no previous coaching. I had to wing it and I mastered it after a few bumps in the road and hard lessons. I'm glad that I can make this journey easier for the new dolls in the game. Each Rich Heaux lesson is $69.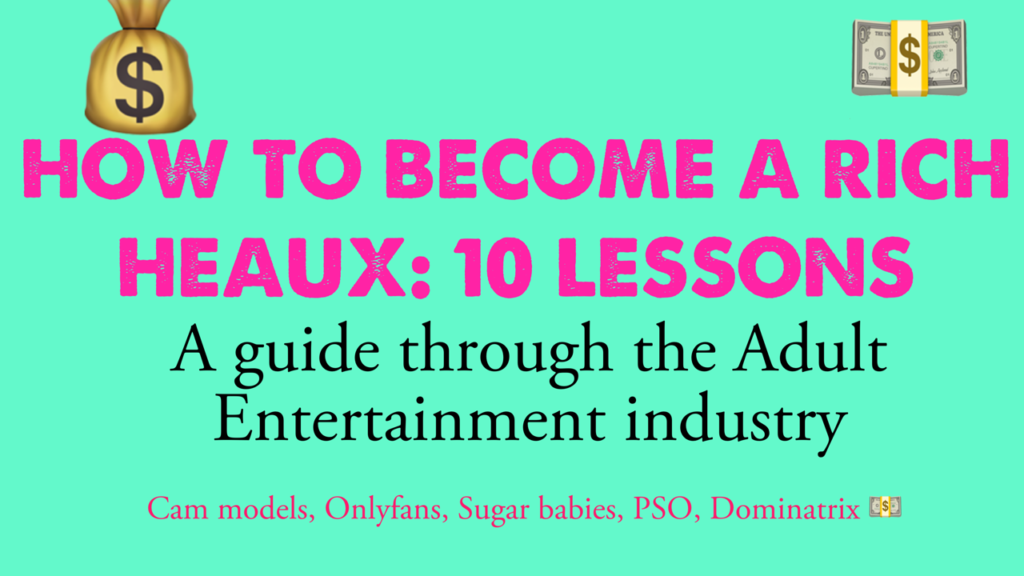 Adult Entertainment Course
A VERY DETAILED MONTHLY CLASS TEACHING YOU TO EARN MONEY AS A CAM MODEL, PHONE ACTRESS, SUGAR BABY, FEMDOM/DOMINATRIX & CONTENT CREATOR. THIS CLASS IS $500 FOR ACCESS TO THE RECORDINGS, LIVE DISCUSSIONS AND GROUP CHAT. THERE IS ALSO A $10/MONTH FEE THAT YOU CAN CHOOSE TO CANCEL AT ANYTIME. You can send $500 zelle payment to [email protected], purchase on Payhip, or click the join button below.
1-on-1 Private Coaching Sessions with the Founder of Heauxlistic Therapy
Scheduling a coaching session with me can be a great way to learn new skills and knowledge that can help you improve various aspects of your life. My sessions can cover a wide range of topics, including personal development, career advancement, healing from trauma and abuse, adult entertainment opportunities, relationships, infidelity, health and wellness, and more. During our private session, we can have an open and honest conversation about these sensitive topics. I will listen to your concerns and offer support and guidance to help you navigate these complex issues. Please note that while I will do my best to provide helpful and professional advice, I am not a licensed therapist or counselor and cannot provide therapy or counseling services. My goal is simply to provide a safe and confidential space for you to discuss your feelings and advise you accordingly. The private session is $125 per hour. If you would like to schedule a private session with me, please click on the button below. You can also email me [email protected]