WOMEN ARE MAKING 6 FIGURES SELLING FEET CONTENT. YES, MEN LOVE FEET & THEY WILL PAY YOU.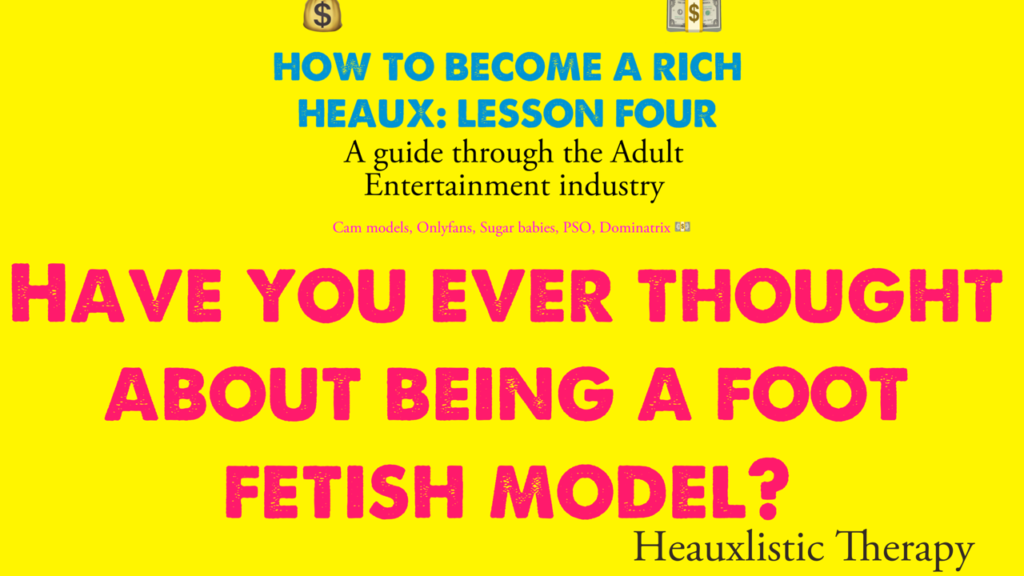 Some of you are boring prudes and you just follow me to obsess over my life. You won't enjoy this email at all. Go clock back in sis your lunch break is over 🙄
But for the rest of us GIIIIIRL IT'S MONEY MAKING TIME HEAUX!
I just uploaded lesson 4 of How To Become A Rich Heaux and in this lesson I'm teaching you to make money as a foot fetish model. I hope that you are smart enough to know that it's not as simple as snapping pics of your polished toes. It's not. If it was that easy we could all be millionaires today. I broke it all down in this lesson and gave a lot of options for making money. You can show your face or not. It's up to you. Stop watching the other girls make money. Stop sitting there being lost in the sauce while the smart Heaux gets the coin. Lesson 4 is packed with so much info and if you listen and take the advice you can't lose.
1. Your feet don't have to be pretty
2. You can remain anonymous
3. You can do a lot more with this fetish than just sell pics. So so much more 💵
Some of you might not know that the foot fetish models are really racking in some serious bank. I follow some of the foot girlies and most of them are 6 figure earners.
This model is making $5K as a side hustle selling foot content
It gets better though. This woman is making 6 figures. From her damn feet.
https://www.dailymail.co.uk/femail/article-6341375/Foot-fetish-model-earns-100-000-year-selling-USED-socks-trainers-fans.html
I break everything down in Lesson 4 and I threw in a gem at the end. The money is there. You can grab it and level up. Ready to get started?
Here's the link to lesson 4
You can also purchase on Etsy
https://www.etsy.com/listing/1445698939/how-to-become-a-rich-heaux-lesson-four
If you never purchased any of my courses you might want to purchase lessons 1-4. Lesson 5 will be uploaded by next week. Use this link
https://payhip.com/HEAUXLISTICTHERAPY/collection/rich-heaux-lessons-1-10
You can also purchase with Zelle & cashapp. Just send your payment and include your email address in the memo. Use my email address for Zelle and here's the cashapp link
https://cash.app/$TheMermaidHeaux
Keep up with my blog
Register for my Shadow Side of Men course
https://www.eventbrite.com/e/shadow-side-of-men-mini-course-sex-work-101-real-truth-from-a-sex-worker-tickets-516307749377
See you all on YouTube & Clubhouse soon